The 2nd Annual Software Freedom Day Celebration at FreeGeek Chicago!
Please Visit our Eventbrite Registration Page
Software Freedom Day (SFD) is a worldwide celebration of Free and Open Source Software (FOSS). Our goal in this celebration is to educate the worldwide public about the benefits of using high quality FOSS in education, in government, at home, and in business -- in short, everywhere!
The admission to the event is FREE and open to all enthusiastic people, though we suggest a "Pay-What-You-Can" donation to support FreeGeek Chicago and it's educational and outreach programming. If you write open source software, use free software, or are curious and want to learn about software freedom and the FOSS community, come join us for Software Freedom Day!
About FreeGeek Chicago
FreeGeek Chicago is a not-for-profit community organization that recycles used computers and parts to provide functional computers, education, internet access and job skills training to those who want them. FreeGeek advocates for the humane, environmentally-friendly use of information technology.
About Software Freedom Day
SFD Vision
Our vision is to empower all people to freely connect, create and share in a digital world that is participatory, transparent, and sustainable.
SFD Objectives
To celebrate software freedom and the people behind it
To foster a general understanding of software freedom, and encourage adoption of free software and open standards
To create more equal access to opportunities through the use of participatory technologies
To promote constructive dialogue on responsibilities and rights in the information society
To be inclusive of organizations and individuals that share the SFD Vision (see above)
To be pragmatic, transparent, and responsible as an organization
Schedule
Time

Presentation Area

Hack Area

10:00a

Registration

SETUP

10:30a

James Slater Morning Roundup and Code of Conduct

SETUP

10:45a

David Eads What is Software Freedom?

SETUP

11:00a

Naomi Ceder Farewell and Welcome Home - Transition and Inclusion in FOSS"

Django Jail Scrapper - sc3
CryptoParty - RAD

12:00p

LUNCH

Django Jail Scrapper - sc3
CryptoParty - RAD

12:30p

Raven Guerrero "Image editing with GIMP"

Django Jail Scrapper - sc3
CryptoParty - RAD

01:00p

Radicals Against Discrimination (R.A.D.) Chicago "Principles of Privacy"

Django Jail Scrapper - sc3


02:00p

Jay Margalus and Russ Lankenau "Open Hardware and the Future of Open Software"

Django Jail Scrapper - sc3
CryptoParty - RAD

03:00p

Mahrinah von Schlegel "Open Source in International Markets"

Django Jail Scrapper - sc3
CryptoParty - RAD

04:00p

Meg Ford FOSS Project Hour - "Getting Involved with FOSS Projects"

Django Jail Scrapper - sc3
CryptoParty - RAD

04:15p

Wilberto Morales FOSS Project Hour - "Chicago Food Inspections Project"


CryptoParty - RAD

04:30p

Supreme Chi-Town Coding Crew (sc3) FOSS Project Hour - "Cook County Jail Scraper"

CLEANUP

04:45p

FreeGeek Volunteer FOSS Project Hour - Moderated Discussion and Q&A

CLEANUP

05:00p

James Slater Evening Roundup and Appreciation

CLEANUP
About Our Speakers
What to Bring
Bring yourself, some friends, and an open mind. In addition, a laptop is not a requisite to participate but we encourage you to bring your one to workshops and hacking area. We'll provide the WiFi and power.
Getting Here
By Public Transit
CTA Blue Line to Logan Square Stop
CTA #76 Diversey Bus
CTA #56 Miwaukee Bus
CTA #82 Kimball-Homan Bus
By Bike
There are few bike racks right by FreeGeek, but we invite you to bring your bike right on into FreeGeek!
By Car
The map below shows free and unpermitted parking in the neighborhood. Generally, you should be able to find parking:
On Diversey, starting two blocks east of Kimball
On Diversey, starting west of the Family Dollar
On Kimball, everything south of Diversey Ave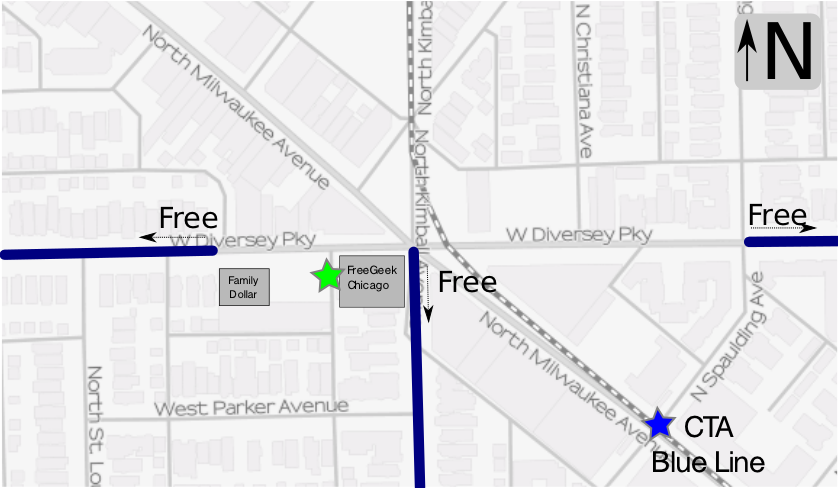 ---