Iran Free Software Users Group, Iran FSUG
2015 Event
Date: 2015 October 1
Time: 8 - 17 (Local time)
Conference: Jaber Ibne Hayan Hall, Sharif University of Technology, Tehran, Iran. (map)
Workshops: Computer Engineering Department, Sharif University of Technology, Tehran, Iran. (map)
Report
Software Freedom Day of 2015 (1394 in Jalali Calendar) has been held in October 1th 2015 from 9 to 17 in Tehran, Iran. The Conference contains two simultaneous parts, one was the presentaions which have been placed in Jaber Ibne Hayan Hall and the other was four workshops, placed in Computer Engineering Department of Sharif University of Technology. More than eight hundred individuals from all over the country participated in this period. Attendance was gratis and free for everyone and most of the conference costs were provided by donations from free software community in Iran.
Most of the presentations was about non-technical, philosophical issues. Namely Why privacy matters, The community of free software, Free software concepts, LPIC certificates, Massive online open courses, Free software in big data, Tools, policies and the future of Wikipedia, Free and open source software foundation of Iran and Data loss prevention system. At the Startup of the event the video of Richard Stallman which was recorded for SFD in Iran was played. Furthermore two free animation from Blender foundation, Sintel and Cosmos Laundromat continued by Nelson Mandela interview about Ubuntu and We are Linux clip from Linux foundation were played in break times.
Workshops were held at the same time with presentations were about technical and general terms in free software. Install and usage of GNU/Linux for newbie users was the other part of the event, held in the Lobby of the computer engineering department from 10 to 16. Workshop subjects were varying about Wikipedia development tools, Privacy protection tools, Blender training, web front-end frameworks, Free hardware design and Aurduino, Embedded Linux from scratch, Security topics (SE Linux, Kali Linux, White hat hacking, Network penetration test), programming topics (Qt application development, R programming language), Web programming topics (YII framework, Component development for Joomla) and Git version control system. From 232 votes sent by participants to choose the best presentation, first presenter had 34 votes, second one had 33 votes and the third one had 32 votes which were awarded by some presents.
The other simultaneous part of this event was painting free software logos on clothes. In this section, participants gave their T-Shirts, scarves, etc. to the director of this section and she painted some free software logos on them. The profit of this section was spent as a part of event expenses.
16 individuals participated as executive team and organizers of the event. After scientific referee sessions from 33 proposals which have been submitted, 13 of them held workshops and 10 presented their articles. 6 video clips with total amount of 48 minutes was played in main conference Hall. Unfortunately because of some sort of technical faults, some of the presentations and workshops was not recorded correctly, but from 24 hours of presentations in workshops and conference, after video codifications 12 hours of speeches was uploaded on youtube, takhtesefid and Internet Archives with 5 different formats.
Total amount of donations was 14 millions and 300 thousands IRRs from 50 individuals, with maximum donate of 5 millions IRR. About 25 millions IRRs has been spent for the event. Detailed financial report of the event is published on the website.
Media impression of this event was in such a way that some of the magazines, Internet forums, blogs, news websites, websites which are active in Free Software field and IT companies broadcasts the news of Tehran SFD event. In addition, Al-kosar International Arabic TV Station produced and broadcast a report of the event. Artworks which are used in these reports and websites was published from Tehran SFD official website.
After appreciation of staffs and executive team, presenters and patrons, at the end of this event all participants took some photos.
About Us
IranFsug, is an Iranian independent network of Free software movement activists founded in 2010. Later this group become a part of Libre/Free Knowledge Foundation (LFKF) and it's open to everyone to join and share their knowledge with society.
Social Networks
* ‌Twitter
* Facebook
* Telegram
* Youtube
Artworks

Banner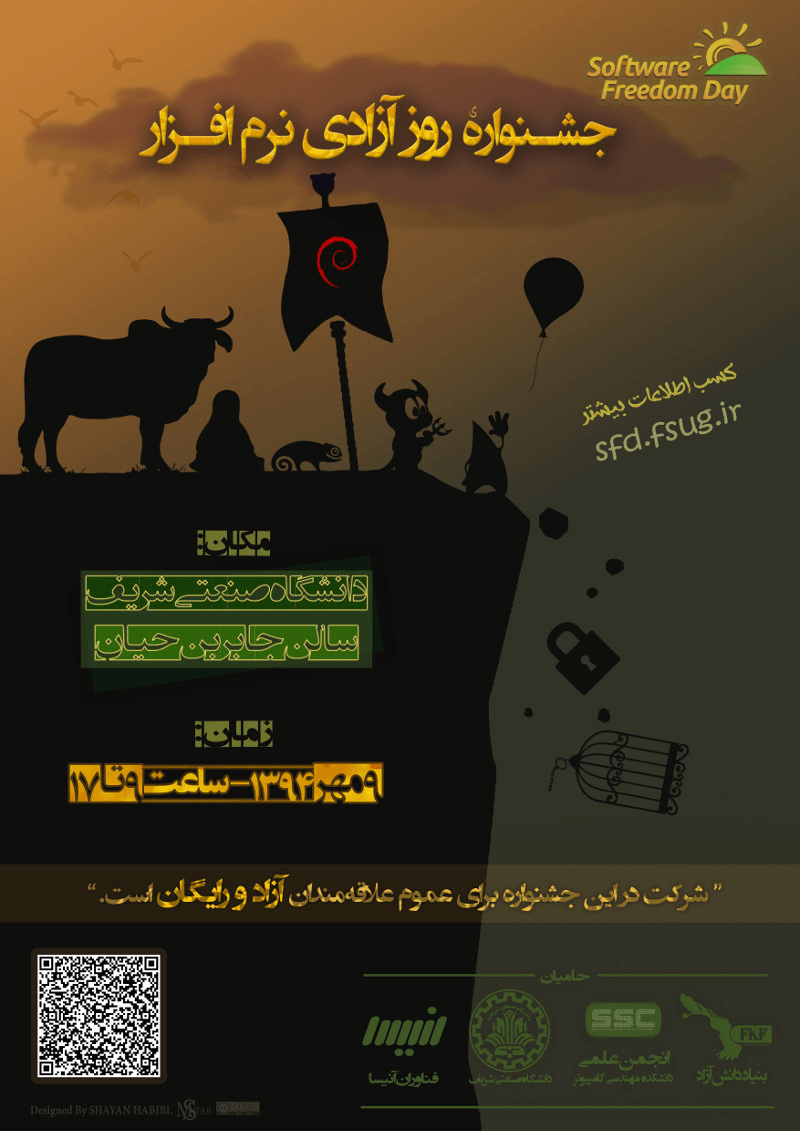 Poster
Video Uploads
Conference Section
| | | | | |
| --- | --- | --- | --- | --- |
| Title | Presenter | Recorded Video | Paper | Slides |
| Why Privacy Matters | Nasrin Ghassemi | | | |
| Linux Professional Institute Certification | Mehdi Mehranfarid | | | |
| Playing Chess With Mensch Rules | Mobin Shateriyan | | | |
| Be The Community | Jadi | | | |
| Iran Free Software Foundation Introduction | Mohammad Damavandi | | | |
| An Introduction to Massive Open Online Course | Abbas Ma'azallahi | | | |
| An Introduction to Free Knowledge | - | | | |
| About Software Freedom | Saba Fotuhi | | | |
| Open Sourcing Big Data | Hadi Sotudeh | | | |
| Data Loss Prevention System | Mohammad Reza Sadeghi | | | |
| What You Didn't Know About Wikipedia | Amir Sarabadani | | | |
Workshops Section
Title

Presenter

Recorded Video

Details


Wikipedia Development Tools

Amir Sarabadani

Privacy Protection Tools

Danial Behzadi

Step by Step Guide For Building Animations with Blender

Farzad Jenabi

Workshop details
Workshop animation (webm)
Worksop animation (ogv)

Free Hardware and Arduino

AmirHossein Goodarzi

Embedded Linux From Scratch

Naser Afshin

Stop Disabling SElinux

Mahdi Mehranfarid

An Introduction to Kali Linux

Ali NikKhah

White Hat Hacking and Network Penetration Testing

Mohamad Hadi Tabarzad

An Introduction to Git

Sayed Mohammad Masoud Sadrnezhaad

Introduction to R Language

Hossein Hamedi

Application Development with Qt

Ali Jafarabadi

Introduction to Yii2 Framework

Mohsen Rajabi

Component Development for Joomla

Behzad Babaie
Photos
| | | |
| --- | --- | --- |
| | | |
| Staff Team | Participants | "What You Didn't Know About Wikipedia" |
| | | |
| | | |
| Richard Stallman Video for TehSFD | Painting Free Software Logos on Clothes. | GNU/Linux Installfest |
| | | |
| | | |
| "Be The Community" | GIT Workshop | Public Speakers |